Have you ever thought, "I wish I knew more about my elders"? Have you found your mind wandering in church to whether or not Phil Ellen has ever been to a rap concert or which Tom Cruise movie Mark Yang watched the most in the 90s?  I know you've asked these questions, and you're not alone.
So, without further ado, here is our new feature: Get To Know Your Elders. Every once in a while (don't expect too much regularity) you will get a post centered on an elder with some fun Q and A as well as a few Bible-y questions.
Today's Elder: Mark Yang
1.) Mark, tell us what brought you to St.  Paul's and was has kept you at St. Paul's.
I began coming to St. Paul's in 2008 when the church I was attending, Crossroads Church of Atlanta, merged with St. Paul's. What's kept me at St. Paul's is the warmth and kindness of people and the great ministries here.

2.) What is one scripture that has affected your life in a particularly powerful way?
John 15:5-"I am the vine; you are the branches. If you remain in me and I in you, you will bear much fruit; apart from me you can do nothing."
This verse was particularly meaningful in my life after college when I had some challenges finding a job. Through this verse, God showed me that I cannot do anything without Him, and taught me the meaning of abiding and relying on Him. This verse has continued to be meaningful to me over the years as a reminder of my need for Him and the importance of finding my value and worth in Him.

3.) What is your idea of a perfect Saturday?
Breakfast with wife and kids, tennis in the morning, going to the park with family in the afternoon.

4.) What's your favorite song or movie from the 90s?
Favorite song: Say it ain't so by Weezer
Favorite movie: Jerry McGuire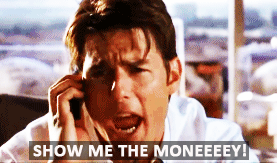 Thank you Mark for all you do for the folks of St. Paul's!